Danielle Ballard Makes a Final Decision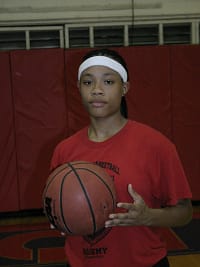 Central High School star Danielle Ballard (2012) has at last made her final decision, and today will call Louisiana State women's new basketball coach, Nikki Caldwell, and pledge her commitment to the SEC school.
Audio of exclusive interview:
"It was very difficult because it was a lot of pretty much good teams I wanted to go to," Ballard began, "like UCLA, Rutgers, Duke, North Carolina, Ole Miss, LSU. A lot of great teams that I really wanted to play for and I just narrowed it down to LSU. It's within (a close) distance of where I stay at, and when I went over there, it was beautiful."
Her family was involved heavily in the process every step of the way, and Ballard wanted to stay within easy driving distance.
"It was very important that my family know that it's only a six-hour drive and they can be able to come and see me play sometimes."
Danielle told me several times over the past few days that staying home had crept back into the discussion, but in the end, competing on the SEC level and playing with LSU's highly talented squad (a top 10 2011 class) was simply too good of an opportunity to ignore.
"I'm not saying that Memphis isn't a good school, but I just thought LSU was the best fit for me. They are in the top, top teams, one of the top teams. . . They have some players on their team that are good and I want to play with the best."
As for this fall, the decision to commit early allows Ballard to concentrate of helping her coach, Niki Bray, and team to win back-to-back state championships. . . but she also has much greater ambitions, as well.
"If we keep working hard, every day in practice, every day we are focused and disciplined, yeah, I'm pretty sure we can pretty much win a national championship (at Central)."