Memphis State Tribute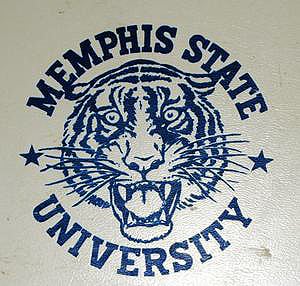 The University of Memphis today announced that the home game on Saturday, September 17 against Kansas will be promoted as Memphis State day, as the Tigers pay tribute to the past. The Tigers have partnered with First Tennessee Bank for this special event and the first 10,000 fans will receive a free Memphis State branded hat.
As part of this Memphis State game, the Memphis football team will wear a Memphis State logo on its helmet, and all fans are encouraged to wear their favorite logos from the past. First Tennessee has also fully embraced the campaign and will launch a Memphis State bank card in conjunction with the game.
"While we are proud of our University of Memphis brand, we remember fondly the era when the university was known as Memphis State," said athletic director Tom Bowen. "Many of our fans and alums have life-long memories of the past, and we are using this game to celebrate that rich history."
The game against Big 12 foe Kansas is a nationally-televised game on ESPNU and will kick off at 11AM (Central) at Liberty Bowl Memorial Stadium.
"First Tennessee has been a longtime sponsor of the Memphis Tigers, and we're excited to partner with them in celebrating Memphis State's past as well as what the University of Memphis brings to our community today, " said Bo Allen, West Region Market President of First Tennessee Bank. "As the Official Bank of the Tigers, First Tennessee is developing an exclusive throwback version of our Tigers' debit card to commemorate Memphis State day. It's a fun way for us to continue showing our support for both Tiger fans and alum."
Season tickets are available at www.GoTigerGoTix.com or by calling 901-678-2331.
About First Tennessee
First Tennessee Bank is the largest bank headquartered in Tennessee, with the number one deposit market share in Chattanooga, Knoxville, Memphis and the Tri-Cities and a top-five deposit market share in Nashville. The FTB Advisors wealth management group has 313 financial advisors and $27 billion in assets under administration. First Tennessee was founded during the Civil War in 1864 and has the 14th oldest national bank charter in the country and one of the highest customer retention rates of any bank in the country. First Tennessee, FTN Financial and FTB Advisors are part of First Horizon National Corp. (NYSE: FHN), which has 4,300 employees. First Horizon has been recognized as one of the nation's best employers by Working Mother and American Banker magazines. More information is available at www.FirstTennessee.com.